(22 Apr 2021)
Etihad Airways operated its first ecoFlight for 2021
on Saturday, continuing research and testing under the Etihad
Greenliner programme to assess environmental sustainability
initiatives during scheduled services.
Etihad's fourth ecoFlight thus far was operated on
the airline's signature Greenliner aircraft which is fully offset
for all operations through 2021.
EcoFlight, EY83, departed Abu Dhabi for Rome on 17
April 2021, testing a range of flight and engine optimisation
initiatives, as well as onboard product enhancements to reduce
weight and single-use plastics, with successful trials to be
incorporated into regular scheduled operations.
On board, the trial focused on three key pillars:
sustainable products, incorporating initiatives identified on past
ecoFlights to reduce single-use plastics, and an overall weight
reduction study. The airline also tested initiatives to mitigate the
challenges imposed by COVID19.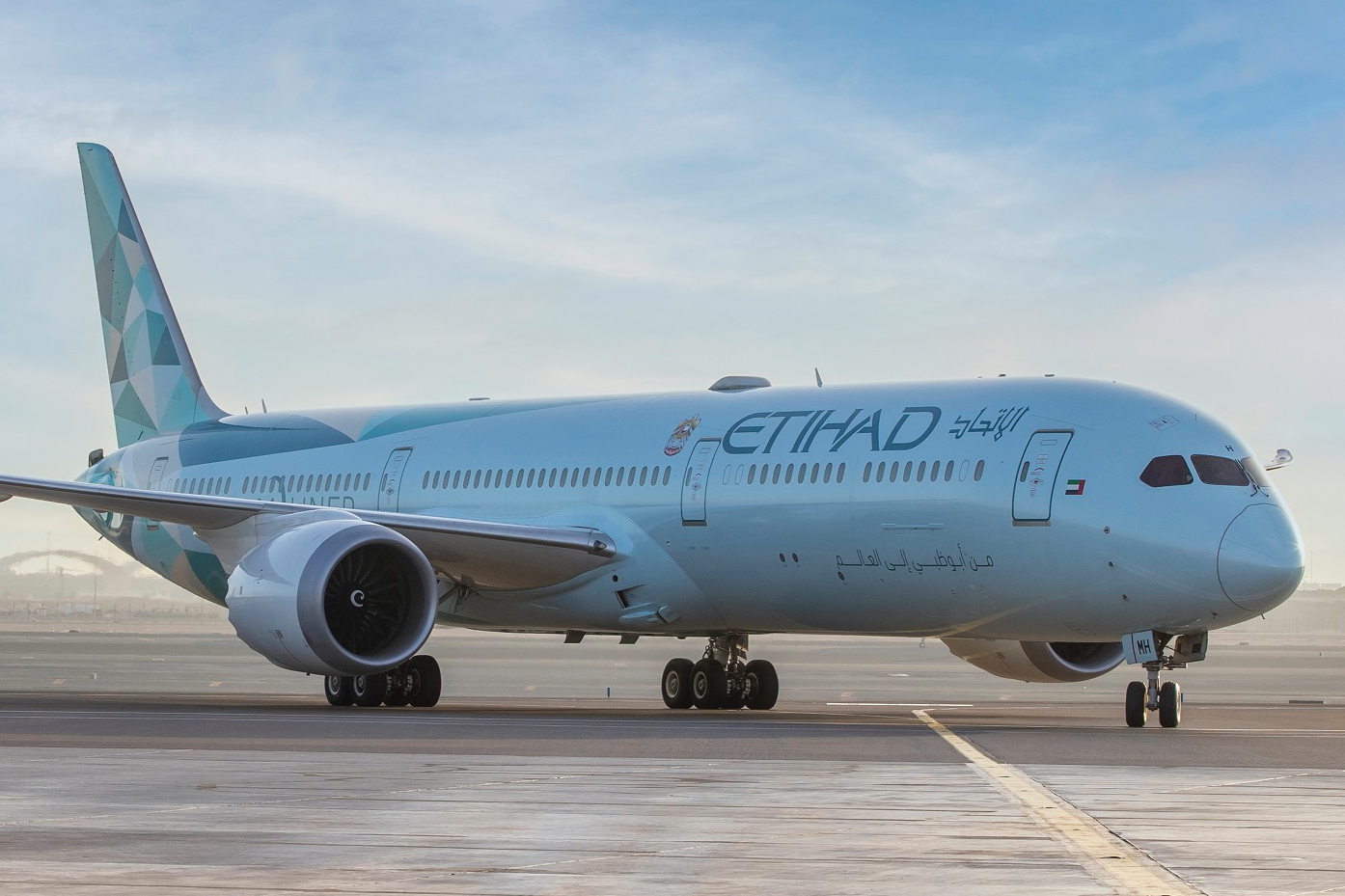 Tony Douglas, Group Chief Executive Officer,
Etihad Aviation Group, said, "Etihad made a significant and
tangible commitment to sustainability and the future of aviation
over a year ago, first when we launched the Greenliner programme
in partnership with Boeing, GE and other aviation leaders, then
with our commitment to achieving net zero emissions by 2050 and
halving our net emission levels by 2035.
"Since then, and throughout the pandemic we have
remained on track, with a number of ecoFlights during 2020, as
well as partnering with Boeing, NASA and Safran on the 2020
ecoDemonstrator programme. Now in 2021 we are stepping up our
efforts so eco testing won't be confined to quarterly dedicated
ecoFlights, but instead an always on, ever present part of
operations to test, refine and implement sustainability
initiatives. This kind of incremental, real world testing is the
foundation of the Greenliner programme, which will allow us to
continue R&D efforts into decarbonization opportunities.
"This isn't about solving only Etihad's emissions,
but about supporting the entire industry to address the biggest
challenge we face over the next three decades."
The Rome ecoFlight saw the removal and replacement
of 1,731 single-use plastic items from onboard service, with a
weight reduction of 108kg, saving 60kg CO2 emissions.
This follows
efforts on the first ecoFlight to Brisbane in 2019, where 43
single-use plastic items were removed from onboard operations,
resulting in an annual saving of 17 tonnes of waste from landfill
and again in 2020, when the airline operated an ecoFlight to
Brussels, removing 2,639 single-use plastic items from the flight,
equal to approximately 8.8kg in weight reduction.
Feasible initiatives trialed on the latest
ecoFlight will be adapted for standard operations moving forward,
contributing to Etihad's goal to remove 80 percent of single-use
plastics.
Based on circular theory efforts, the airline tackled
international waste regulations head on with a recycling
initiative to better manage cabin waste. Strict waste regulations
force international airlines to incinerate all contaminated
materials, and efforts were made to identify suppliers offering
products that will not release harmful emissions in incineration,
such as EcoWare bagasse pots, which are compostable and made from
plants. The flight produced and successfully diverted 8.1kg of
recyclable material from landfill.
Pro-Sustainability Partners
Boasting a range of sustainable suppliers, the
flight focused on avoiding single use items, finding replacements
that are locally produced, UAE sourced and meet the requirement of
being lightweight and non-energy intensive in the cleaning process
or non-impactful in the disposal process.
The ecoFlight showcased Al Ain Water's sustainable
plant-based water bottles onboard. It also featured Abu Dhabi-based startup 'The Concept's' sustainable inflight meal trays made
from used water bottles, and BambuuBrush, for their highly
sustainable up-cycled Bamboo Toothbrush.
Operational Efficiencies
Operational initiatives trialed continue to
evaluate and confirm learnings from past ecoFlights for flight
path optimisation, including optimised climb and continuous
descent.
A previous ecoFlight to Dublin showed when compared to a
standard Boeing 787 flight on that route, the ecoFlight reduced
journey time by 40 minutes and reduced CO2 emissions by three
tonnes.
Flight Optimisation
Following extensive trialing and collaboration
with Air Navigation Authorities globally on previous ecoFlights,
flight optimisation has become an Etihad standard operating
procedure wherever possible. The ecoFlight saw the airline
successfully avoid 1,386kg CO2 through operational efficiencies
alone.
The flight also leveraged Boeing's proprietary
Probabilistic Flight Planning tool to optimise routing and fuel
efficiency by evaluating possible routes, taking uncertainty in
the weather forecast into account to use less fuel, regardless of
the actual winds. This technology has the potential to reduce
Etihad's fleet-wide annual CO2 emissions by approximately 2
million kgs. (4.4 million lbs.).
"Flight optimisation is one of the first places we
should be looking to for fuel and CO2 savings as an industry. It's
an elegant, simple solution for massive, incremental savings that
would fundamentally change the industry and put us on the path to
a sustainable future," said Douglas. "However, simple does not
mean easy to implement. It requires cooperation across the
industry, and importantly, across borders as a coordinated global
response, and that sort of cooperation needs to be led at the
regulatory level."
Potable Water
Adding valuable testing data to operational
efficiency initiatives such as potable water optimization favours
these trials greatly, with this ecoFlight reducing CO2 emissions
by 189kg from this practice alone.
The results from the flight
will help develop a more efficient method to calculate potable
water requirements for future operations, with a potential annual
impact of up to 800 tonnes of fuel, or 2,500 tonnes of CO2 saved
across the entire fleet.
Engine Foam Wash
The ecoFlight follows the recent announcement of
Etihad's partnership with GE Aviation, licensing the airline for
the groundbreaking
GE 360 foam wash jet engine cleaning system.
The system will remove more than 7,000 metric tonnes of CO2 in
2021 from Etihad's GE90 and GEnx fleets. Impacts are already
proving invaluable, with this initiative saving 290kg of CO2
emissions on this flight.
Electric Tractors
The flight once again leveraged electric tractors,
which were successfully trialed on previous ecoFlights and are
permanently deployed to service 37% of Etihad and other airline
flights at Abu Dhabi airport, with a 309.5 tonne CO2 annual
benefit in emissions.
Sustainability and COVID19
With operations still severely impacted by COVID19,
Etihad's commitment to sustainability remained on track, with the
airline implementing a number of key sustainability initiatives in
2020:
Jan 2020: Announcement of 2035 and 2050 net zero
emissions targets.
Jan and Feb 2020: First two eco-flights to
Brussels and Dublin.
Aug 2020: Partnership with Boeing on the
ecoDemonstrator programme, for the first time on a 787-10 aircraft.
Oct 2020: Launch of world's first Transition Sukuk and first Sustainability-Linked financing in global
aviation, raising USD 600 million by linking terms to Etihad's
carbon reduction targets.
Dec 2020: Commitment to purchase carbon offsets
to completely neutralise the CO2 emissions of flagship "Greenliner" aircraft throughout 2021.
Feb 2021: Partnership with GE to launch its 360
Foam Wash to remove more than 7,000 metric tonnes of CO2 in 2021
from Etihad's fleet.
Etihad Greenliner Programme
A key pillar of the Etihad Greenliner programme is the Etihad-Boeing
strategic global partnership, spearheaded by a specially-themed
Boeing 787 Dreamliner to test products, procedures and initiatives
designed to reduce aircraft carbon emissions.
Etihad is actively encouraging and inviting partners from across
the aviation sector to join and test sustainability initiatives on
scheduled 787 operations. The results are then processed and
validated with Etihad and its partners including Boeing and GE,
and the most sustainable initiatives used as a base for improving
the performance of the global 787 operating community.
See also:
Hotel Waste, Single-Use Plastic and Climate Change – Interview
with WWF and

What is the IATA Travel Pass, and what does it mean for
travellers, airlines and the global travel industry? Exclusive
video interview with Vinoop Goel.
See latest
Travel Industry News,
Video
Interviews,
Podcasts
and other
news regarding:
COVID19,
Etihad,
Green,
Sustainable,
SAF.

Headlines:

Rosewood Partners Mitsubishi for First Hotel in Japan
Finnair to Accept First COVID19 Vaccine Dose as Alternative to Test Result
NH Hotel Group to Join Global Hotel Alliance; Merge Loyalty Programmes
Dorsett Hotels in Hong Kong to Install HEPA UV-C Air Purifiers on Guest Floors
IATA and UNWTO Launch Destination Tracker
Embraer Converts Legacy 450 into a Praetor 500 in Brazil
Delta Orders 25 More Airbus A321neo Aircraft
OAG Partners Microsoft Azure and Snowflake to Launch Metis
Bangkok Airways Delays BKK-MAQ Launch; Suspends HKT-HDY, BKK-THS/TDX
IATA Forecasts Net Airline Industry Losses of US$47.7 Billion in 2021
Chris Drewer Returns to Singapore as Airbus' SVP for South East Asia
Etihad Airways Operates First ecoFlight of 2021
Martin Clapham Joins ICC Sydney as Director of Business Services
IATA Urges States to Comply with WHO Recommendations on International Travel
Bombardier Opens Line Maintenance Station in Geneva, Switzerland
Boeing Delivers Second F-15EX to U.S. Air Force
Hyatt Opens Award-Winning Hotel in China
S Hotels and Resorts to Sell Underperforming Assets in the UK
Air Astana Enhances IFE with MyPress Digital Media Service
Katie Taylor to Receive ALIS Lifetime Achievement Award 2021
Emirates Updates Booking Policies; Extends Travel Insurance
Mandarin Oriental Appoints Joanna Flint as Chief Commercial Officer
Samsonite Launches Magnum Eco Collection
OneSat Flexible Satellite Product Line Passes Final Design Review
IATA to Incorporate Unilabs Global COVID19 Testing Network into Travel Pass
Cross Signs Hotel in Pattaya, Thailand
Far East Hospitality Partners Indonesia's Artotel Group
Qatar Airways First to Use New Version of Honeywell's UV Cabin System
Marriott Appoints Sandeep Walia as COO – ME and Jerome Briet as CDO – EMEA
United Airlines to Launch Flights to Croatia, Greece and Iceland
American Airlines to Resume Beverage Service on Domestic Flights
Elbit Systems Awarded US$41m Night Vision Goggles Contract for US Marine Corps
Hong Kong Int. Airport Handled 58,000 Passengers and 10,620 Flights in March
Eurofins to Incorporate COVID19 Testing Network into IATA Travel Pass
Airbus A400M Conducts Helicopter Air-to-Air Refuelling Certification Campaign
SITA Enhances Travel Experience at Istanbul Airport
Macao Reports Upswing in Visitor Arrivals
Devarana Spa at Dusit Thani Maldives Becomes Devarana Wellness
Hamad Int. Airport in Qatar Achieves ISO/IEC 27001:2013 Certification
Elbit Systems Awarded US$1.65 Billion Flight Training Program Contract
Malaysia Airlines Extends Rebooking Flexibility
Up to 200 Million Tourists Expected to Travel During May Day Holiday in China
Mandarin Oriental Reopens The Ritz, Madrid
Boeing Publishes 2021 Current Aircraft Finance Market Outlook
UNWTO Partners FB to Enhance Digital Marketing Skills of Tourism Destinations
Cora Cora Maldives to Use IDeaS G3 Revenue Management System
EASA Certifies Airbus H125's Power Increase
Promoting Hua Hin Airport and Prachuap Khiri Khan to Regional Markets – Interview
IHG Signs Three Hotels in Japan
EASA and FAA Approve Viasat's Ka-band IFC for Challenger 300-Series
Bangkok Airways Closes Ticketing Offices
France Awards Nguyen Thi Phuong Thao with Legion of Honour
Weilu Wang Joins Four Seasons Hangzhou at West Lake as Pastry Chef
STR Reports Global Hotel Pipeline Data for March
Egyptian Air Force Signs C295 Support Contract with Airbus
Tokyo-Narita Airport Launches Face Express
FlyArystan to Launch Flights from SCO, GUW and NQZ to Kutaisi, Georgia
Air Canada Revises Refund and Future Travel Policies
IBS Software to Upgrade Gulf Air's Falconflyer FFP
Airbus Plant in North Wales Starts Using Sustainable Aviation Fuel
British & Irish Lions Confirm Coaching Team for 2021 Tour to South Africa
United Airlines Encourages More Companies to Join Eco-Skies Alliance
TFE Hotels Appoints Amanda Cottome as GM of A by Adina Sydney
Saudia to Commence IATA Travel Pass Trial on KUL – JED Flights
More Exclusivity, More Benefits – Melia Samui Opens The Level
Luxury Resort in Maldives Buys COVID19 RT-PCR Machine
British Airways Appoints Noella Ferns as Head of Sales – Asia Pacific
Dara Airport City Hotel in Phnom Penh Appoints Weng Aow as GM
Oakwood to Open Four Properties in China This Year
Norway's First P-8A Poseidon Aircraft Moves into Assembly
Japan, Singapore, Germany and South Korea Retain Top Spots in HPI
Accor to Open Australia's Second Mövenpick Hotel in May
Bangkok Airways Waives Rebooking Fees
Onyx Hospitality Opens Group's First Shama Resort
Malaysia Airlines Group to Reduce CO2 Emissions by 25m Tonnes in 2021
Qatar Airways to Launch Sea-to-Air Transfers from Shenzhen to HKIA
Derazona Helicopters Orders Airbus H160 Helicopter
Marriott Partners with Scholars of Sustenance for Rescue Kitchen in Phuket
Tourism Cares Expands Board of Directors
Hyatt Opens First Andaz Resort in Asia
Saudi Arabia Hosts UNWTO's 9th Global Tourism Crisis Committee
Boeing Warns Airlines of Potential Issue with Some 737 MAX Aircraft
BA CityFlyer to Launch Flights to Jersey and Gibraltar from LCY
Emirates to Celebrate UAE's Vaccination Programme with Special Flight
Air Astana Launches Meet & Greet Service at ALA, NQZ and FRA
Embraer Publishes Info on Using Business Jets to Transport Vaccines
Messe Berlin 'Very Pleased' with Inaugural ITB India; Dates Set for 2022
Tigerair Taiwan Takes Delivery of First Airbus A320neo Aircraft
Phoenix Aviation to Promote Hua Hin Airport to Regional Markets
Banyan Tree Signs Second Dhawa Resort in Vietnam
Thai Airways to Operate International Flights to 10 Destinations in April
Airbus and TNO to Develop Aircraft Laser Communication Terminal
Mandarin Oriental Lago di Como to Reopen 15 April
Smiths Detection to Upgrade Heathrow's Cabin Baggage Screening
Thomas Cook Opens Outlet in Varanasi, India
Etihad Airways Launches Flights to Ben Gurion Int. Airport in Tel Aviv
No Indication of a Recovery in Demand for International Air Travel
Singapore Airlines Migrates to Sabre's New Crew Manager Solution
VistaJet Orders 10 More CL350s; Takes Delivery of First Two Global 7500s
Qatar's First Marriott Executive Apartments Open in Doha
Marc Speichert to Join Four Seasons as CCO and EVP
Leslie Chiyoma Appointed GM of Grand Park Otaru in Hokkaido
Global Air Cargo Demand Up 9% on Pre-COVID Levels
Modular Aircraft Wins International Design Award
Steigenberger Hotel Doha Appoints Sherief Abouelmagd as GM
Duetto Appoints Chris Crowley as Senior Vice President of Sales
Singapore to Accept IATA Travel Pass from 1 May
Changi Airport Launches Safe Travel Concierge App
Thai AirAsia Launches Promotion
Salesforce to Upgrade Singapore Airlines' CRM with 1Point
Qatar Airways Operates World's First Fully COVID19 Vaccinated Flight
British Airways Invests in Future of Hydrogen-Electric Aircraft with ZeroAvia
Alaska Airlines Confirms Order for 23 Boeing 737-9 Airplanes
Elbit Systems Completes Acquisition of Sparton
Air Canada Terminates Transat Acquisition
Saudi Arabia Has 73,057 Hotel Rooms in Pipeline
Wharf Opens Stunning Niccolo Hotel in Suzhou, China
Airlines: A Path Back to Profitability
Sabre Launches New Airline Storefront
Vietjet to Resume International Flights
SITA Appoints Martin Smillie as VP Communications & Data Exchange
Embraer Completes Aerial Refueling Trials Between Two KC-390s
Elbit Systems Acquires Rokar from BAE
China Airlines to Launch Taipei – Palau Flights
Emirates Resumes Daily Airbus A380 Flights to Bangkok, Thailand
Willie Walsh Becomes Director General of IATA
American Airlines Offering Quarantine-Free Travel to Italy
Jumeirah Appoints Ermanno Zanini as RVP and GM of Burj Al Arab
Cross Signs Franchise Agreement for Seven Hotels in Japan
Hong Kong Air Cargo Launches Pilot Recruitment Drive
Boeing Awarded US$1.6 Billion Contract for 11 P-8A Poseidon Aircraft
WHO Appoints Carl Bildt as Special Envoy for ACT-Accelerator
Hong Kong Airlines to Trial Lab App Module of IATA Travel Pass
Thailand's Top of the Gulf Regatta 2021 to Take Place in November
World Tourism Organization Outlines Two Scenarios for 2021
TUMI and McLaren Unveil New Collection
Accelya Signs Distribution Agreement with Air France-KLM
Corsair Takes Delivery of First A330-900 Aircraft
Qatar Airways Extends Support of Orbis' Blindness Prevention Programmes
WHO Calls for More Studies into Origin of SARS-CoV-2 Virus
Japan Coast Guard Orders Two More Airbus H225 Helicopters
Thai Airways to Operate Two Flights Between Frankfurt and Phuket
Travellers Need COVID19 Tests to be Convenient and Affordable
Jelena Bojanic Appointed GM of A by Adina Canberra Hotel
Southwest Airlines Orders 100 Boeing 737 MAX Aircraft
TFE Begins Major Expansion with Opening of First Hotel in Austria
Bombardier Delivers 50th Global 7500 Business Jet
British Airways Starts Selling Cook-at-Home Meal Kits
Airbnb Launches What's My Place Worth Tool in Thailand
Qatar Airways Enhances Oryx One IFE with PressReader Partnership
Airbus Launches Travel Companion App – Tripset
United Airlines to Increase Flights in May
IATA Publishes 2020 Safety Report
FlyArystan Takes Delivery of Two More Airbus A320 Aircraft
GKN Aerospace Wins Boeing 777X EWIS Contract
Delta to Launch Flights to Iceland from Three Cities in U.S.A.
Marriott Signs Three Hotels in Saudi Arabia
Sabre Launches Qantas NDC Offers in Australia and New Zealand
Mandarin Oriental New York to Reopen 1 April
Air France Trials ICC AOKpass on CDG – SFO and LAX Flights
Bell Boeing V-22 Osprey Logs 600,000+ Flight Hours
SITA Upgrading Services at Sydney Airport in Australia
Dusit Thani Maldives Hosts Professional Tennis Coach Jerome Becker
Elbit Systems Wins Night Vision Goggles Order from German Federal Police
NDC – Exclusive Interview with Kathy Morgan of Sabre Travel Solutions
Elephant Conservation, Jungle Bubbles and Tourism in Thailand – Interview
IATA Travel Pass – Interview with Vinoop Goel, Director Airports – APAC
How's Business in Pattaya, Thailand? Interview with MD of Tiffany's Show
Will British & Irish Lions' Tour of South Africa Go Ahead?
ASEAN Tourism Forum 2021 Postponed Until January 2022
HD Videos and Interviews
Podcasts from HD Video Interviews
RSS News Feed and Ticker
Travel Trade Shows in 2020 and 2021
High-Res Picture Galleries
Travel News Asia – Latest Travel Industry News
---
Looking for Bali, Vietnam, Cambodia tour packages, we are the best choice!!!