(27 May 2021)
IATA and Tourism Economics have published a long-term
view for post-COVID19 passenger demand recovery which demonstrates
that people remain eager to travel in the short and long-term.
Forecast highlights include:
– In 2021 global passenger numbers are expected to
recover to 52% of pre-COVID19 levels (2019);
– In 2022 global passenger numbers are expected to
recover to 88% of pre-COVID19 levels;
– In 2023 global passenger numbers are expected to
surpass pre-COVID19 levels (105%);
– By 2030 global passenger numbers are expected to
have grown to 5.6 billion. That would be 7% below the pre-COVID19
forecast and an estimated loss of 2-3 years' growth due to
COVID19; and
– Beyond 2030 air travel is expected to slow, due
to weaker demographics and a baseline assumption of limited market
liberalisation, giving average annual growth between 2019 and 2039
of 3.2%. IATA's pre-COVID19 growth forecast for this period was
3.8%.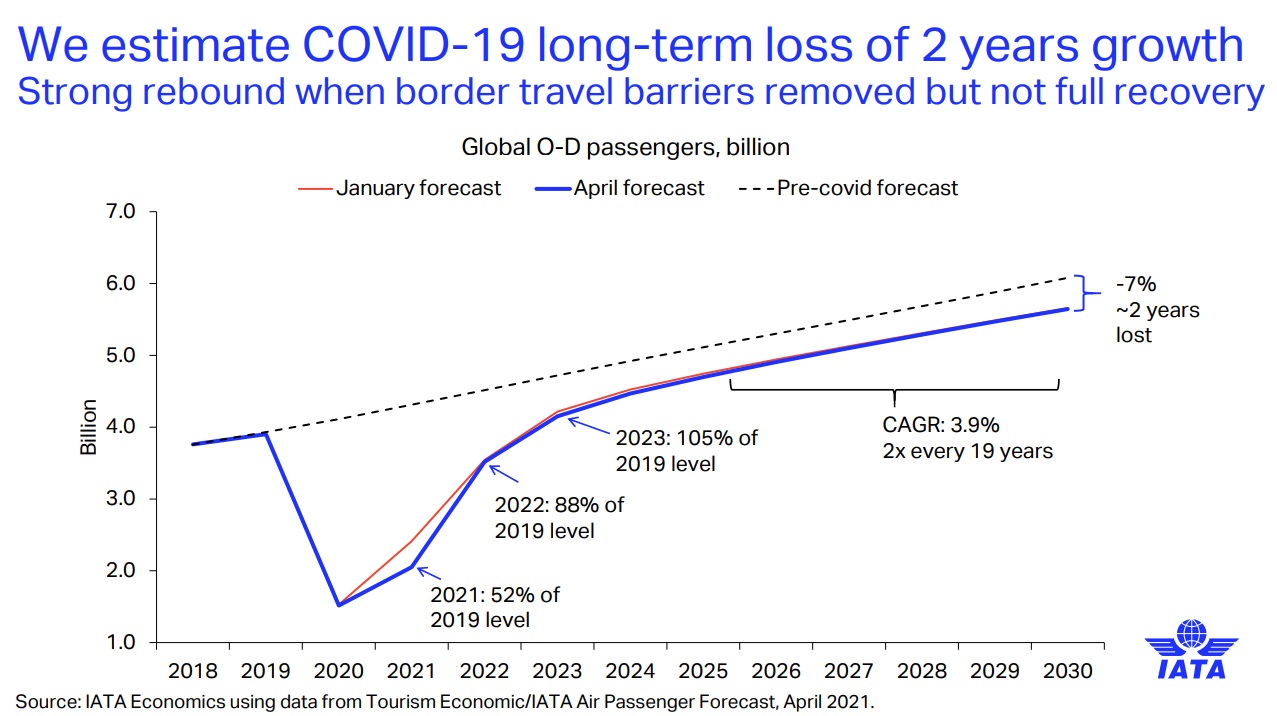 The recovery in passenger numbers is slightly
stronger than the recovery in demand measured in revenue passenger
kilometres (RPKs), which is expected to grow by an annual average
of 3% between 2019 and 2039. This is owing to the expected
strength of domestic markets like China with large passenger
numbers and shorter distances.
"I am always optimistic about aviation," said
Willie Walsh, IATA's Director General. "We are in the deepest and
gravest crisis in our history. But the rapidly growing vaccinated
population and advancements in testing will return the freedom to
fly in the months ahead. And when that happens, people are going
to want to travel. The immediate challenge is to reopen borders,
eliminate quarantine measures and digitally manage
vaccination/testing certificates. At the same time, we must assure
the world that aviation's long-term growth prospects are supported
with an unwavering commitment to sustainability. Both challenges
require governments and industry to work in partnership. Aviation
is ready. But I don't see governments moving fast enough."
Short Term: Restart
The damage of the COVID19 crisis will be felt for
years to come, but all indications are that people have retained
their need and desire to travel:
– Any possibility for borders to re-open is met
with an instant surge in bookings. The most recent example is the
100-percentage point spike in bookings from the UK to Portugal
when the UK's "Green List" was announced in early May;
– The economy is strong and can fuel growth in
travel. February 2021 industrial production levels stood at 2%
above February 2019 levels;
Consumers have accumulated savings in the
lockdowns, in some cases exceeding 10% of GDP; and
– Vaccination rates in developed countries (with
the notable exception of Japan) should exceed 50% of the
population by the third quarter of 2021.
"This should be a clarion call to governments to
get ready," said Walsh. "The travel and tourism sector is a major
contributor to GDP. People's livelihoods are at stake. To avoid
greater long-term economic and social damage, restart must not be
delayed. Governments can facilitate a safe restart with policies
that enable restriction-free travel for vaccinated people, and
testing alternatives for those unable to be vaccinated.
Governments must also be ready with processes to digitally manage
the vaccine or test certificates—ensuring that a safe restart is
also efficient."
Sustainability
"Aviation will grow because people want and need
to travel. But we must be able to fulfill that consumer demand
sustainably. Those are the ground rules for any business. It is no
secret that this is more challenging for aviation than sectors
with broader energy alternatives. But with the support of
governments we will get there through a combination of means,"
said Walsh.
Aviation is committed to cutting its net carbon
emissions to half of 2005 levels by 2050. It already has a good
track record of decoupling emissions and demand growth per
passenger journey in half since 1990 through efficiency gains, but
governments need to step up as well.
In addition to efficiency and technology gains,
CORSIA (the first global carbon offsetting scheme for an
industrial sector) is stabilizing emissions from international
flights at 2019 levels. A low-carbon energy transition for
aviation has commenced with sustainable aviation fuels that are
powering flight today, to be followed by electric and hydrogen
powered aircraft. And there is much more that can be done with
infrastructure—airports and air traffic management—to operate with
maximum efficiency and minimum emissions.
"If we work in partnership with governments there
is great potential in all these areas. But easy sustainability
wins are being left on the table. In Europe, which has led on many
sustainability initiatives, why are we still waiting for the
Single European Sky? This could immediately reduce emissions by up
to 10%. There is no excuse as the technology has been here for two
decades or more. The partnership with governments on
sustainability must exist in deeds as well as words," said Walsh.
The 12-page power point presentation of the report
can be downloaded
here.
See also:

What is the IATA Travel Pass, and what does it mean for
travellers, airlines and the global travel industry? Exclusive
video interview with Vinoop Goel.
See latest
Travel Industry News,
Video
Interviews,
Podcasts
and other
news regarding:
COVID19,
IATA,
Forecast,
Outlook,
Trends.

Headlines:

Times Square, New York Home to World's Third M Social Hotel
IATA Warns of Potential Airport Chaos
Qatar Airways to Resume Flights to Malaga, Spain on 2 July
Skytrax Certifies Korean Air as 5-Star COVID-Safe Airline
Airbus Unveils Plans to Increase Aircraft Production Rates
Air Astana to Resume Flights Between Atyrau and Amsterdam
IATA Forecasts Strong Rebound But Not Full Recovery
World Tourism Organization Opens Regional Office in Riyadh, Saudi Arabia
Escape! Banyan Tree to Open 'No Walls, No Doors' Resort in Bali, Indonesia
Marriott Opens First Luxury Collection Hotel in South Korea
Red Arrows and Canadian Snowbirds to Support Armchair Airshow on 29 May
ATPCO Appoints Ellen Lee as CCO and Maya Bordeaux as CPCO
Air Astana to Launch Flights to Podgorica, Montenegro
American Airlines Appoints Cole Brown as Chief People Officer
Embraer's Aftermarket Solution Converts ERJ145s into Semi-Private Aircraft
Spanish Air Force Takes Delivery of Airbus' 100th A400M
St. Regis Hotel Opens on Dubai's Palm Jumeirah
Changi Airport in Singapore Implements New Measures to Combat COVID19
Singapore Airlines Group Commits to Net Zero Carbon Emissions by 2050
Sheraton Rebrands Hotel in Istanbul, Turkey
Executive Appointments at Saab
How Travellers Evaluate Risk and Comply with COVID19 Rules
airBaltic Rehiring Cabin Crew
Airbus Publishes First Detailed Images from Pléiades Neo 3 Satellite
Minor Hotels to Rebrand Historic Hotel in Amsterdam, Holland
American Airlines Launches New Airport Service: Five Star Essentials
Rosewood Signs Fifth Hotel in Mexico
Akbar Al Baker Appointed Chairman of oneworld
Lucas Leonardi Varin Joins Anantara Resort in Thailand as Executive Chef
Delta Appoints Dan Janki as EVP and CFO
Embraer Delivers 600th Phenom 300 Series Business Jet
Marc Bromley Returns to Four Seasons Hotel Washington, DC as SGM
Etihad Airways and Saudia Expand Partnership
United Airlines to Increase Flights to Europe; Applauds EU Council's Updates
France Orders Two More Airbus H160s for Navy
Cathay Pacific Commits to Net-Zero Carbon Emissions by 2050
Shandong Airlines Implements Sabre's AirVision Fares and Contract Manager
Mandarin Oriental Appoints Matthew Bishop as Chief Financial Officer
British Airways Adds EnergyPods to First Lounge at London Heathrow
Four Seasons Hotel Doha Appoints Maria Sabella as Director of Marketing
FCM Appoints Henry Jones as Head of Marketing for Asia
Franck Rodriguez Returns to Centara as GM of Group's First Hotel in Vietnam
Jeanette Wong to Join Singapore Airlines' Board as Independent Director
Singapore Airlines to Raise SG$ 6.2 Billion via MCBs
Hyatt Signs First Alila Hotel in Shanghai, China
Capital One Partners Plaza Premium for Lounge at DFW
More Countries Lift Restrictions for Vaccinated Travellers
Accor Becomes Official Hotel Partner of NRL
Edmonton Int. Airport and Air Canada Working Together to Reduce Carbon Emissions
Notice of Race: NZ Millennium Cup 2022 to Take Place in February
16,500 Fans to Watch British & Irish Lions Play Japan at Murrayfield in June
Fusion Hotel Group Commits to Using Only Cage-Free Eggs
Cross and Italmar (Thailand) Lay Foundation Stone of New Hotel in Bangkok
Vietjet to Increase Revenue and Improve Service with Upgraded Website
Airbus Corporate Jets Receives ACJ319neo Order
Dusit Thani Reports Q1 2021 Results
Finnair to Install HEPA Filters on ATR Fleet
Bangkok Airways Reports Net Loss of 756.5 Million Baht in Q1 2021
First Section of ACJ220 Arrives in Mirabel, Canada
Dates Set for Rugby World Cup Sevens 2022; Route to Qualification Changes
Air Travel Bubble Between Hong Kong and Singapore Bursts Again
Minor Signs First NH Hotel in Middle East
British Airways Trials 25-Second Digital COVID19 Test
Avani Hotel to Open in Seminyak, Bali Next Month
United Airlines Adding Over 400 Daily Flights to July Schedule
3,500-Room Resorts World Las Vegas to Open 24 June
Four Seasons Unveils New Private Jet Itinerary for 2022
New Zealand Opens to Yachts from Australia
Whitbread to Open 2,142 Hotel Rooms in UK by End of August
Bangkok Airways Resumes Flights from BKK to CNX and HKT
Rebuilding Hospitality – Amadeus Publishes Results of Global Hotel Survey
Hong Kong Int. Airport Reports April 2021 Passenger and Cargo Traffic
Etihad Launches Verified to Fly
First Boeing-Saab T-7A Red Hawk Joined in Record Time
Bombardier's New Apprenticeship Program at London Biggin Hill
Air North, Yukon's Airline Appoints APG as GSA in 12 Countries
Revised Fixture List and Venues for Castle Lager Lions Series
Asia Digital Engineering Receives Base Maintenance Approval from CAAM
Qantas Delays Resumption of International Flights Until Late December
Accor Hotels in Queensland Report Strong Increase in Occupancy
CWT Appoints Courtney Mattson as Acting Chief Financial Officer
Women's Rugby World Cup 2021 to Take Place 8 Oct to 12 Nov 2022
DHL Expands and Upgrades myDHLi Digital Platform
Airbus to Resume Work Upgrading A320 Family FAL in Toulouse
Emirates to Showcase New Premium Economy Seats at ATM 2021
Qantas to Operate Special Supermoon Flight on 26 May
Etihad Airways Launches New Services in Abu Dhabi
Charles H. Named Best Bar in Korea
ATR Expands Partnership with Skyways Technics in Malaysia
SAS to Launch Seasonal Flights Between Luleå and London
China Airlines Warns of Possible Flight Cancellations
British Airways Increases Frequencies to Holiday Destinations
American Airlines Partners Shinola and D.S. & Durga for New Amenity Kits
Rosewood Signs Luxury Hotel in Hangzhou, China
Qantas to Base Five Embraer E190s in Adelaide
Neos Airlines Appoints APG as GSA in USA
Registration Opens for Malaysia Airlines' Aircraft Engineering Courses
Two More Boeing 737-800BCF Conversion Lines to Open in 2022
Mandarin Oriental Geneva Partners CENAS Private Sleep Clinic
Swiss-Belhotel to Launch Two New Brands at Arabian Travel Market
SAS Reports 2% Increase in Passengers in April
Dusit Signs Luxury Hotel in Zhejiang, China
Four Seasons Hotel Hong Kong Completes First Phase of Renovation
Hong Kong Air Cargo Receives Approval for Nine New Routes
Swire Hotels Appoints Giovanni Beretta as Group Director of Operations
Viktoria Skraba Joins Atomize as Director of Customer Success and Services
Dassault Aviation Unveils Falcon 10X
Pause, Focus and Growth – Dusit Introduces Devarana Wellness to Hotels
Embraer Signs Pool Program Agreement with Breeze Airways
International Passenger Demand in March 2021 Down 87.8% on March 2019
FCM Expecting Rebound in Global Corporate Travel by Year-End
Air Cargo Demand Reaches Record High in March
Second Falcon 6X Aircraft Joins Test Flight Programme
Rosewood Signs Hotel in Vienna, Austria
Etihad Airways Enters Esports with Team Nigma Sponsorship
Cathay Pacific Cargo Completes Trial of IATA's ONE Record at HKIA
Air China and Air New Zealand Extend Partnership
Singapore Airlines Raises Further S$2 Billion
Clarence Tan Joins Hilton as Senior Vice President of Development – APAC
Lufthansa Orders Five More Boeing 787-9 Aircraft
Hong Kong to Expand Facilities for Business Jets at HKIA
Delta Signs New Global Distribution Agreement with Sabre
Small Luxury Hotels of the World Adds Four UK Properties to Portfolio
Taste of Finnair Now Available as Foodora Delivery Service
Turkish Aerospace Upgrades Website
New World Signs Resort in Niseko, Japan
Hilton Signs Four Luxury Hotels in China
Bangkok Airways Suspends BKK – CNX, LPT and HKT
JetBlue Takes Delivery of First A321LR with Airspace Interior
Banyan Tree Global Foundation to Support Eight Projects in ASEAN
NAS to Manage Aqaba Air Cargo Terminal for Another 20 Years
Staff at Five Anantara Resorts in Phuket and Samui Now Fully Vaccinated
Expedia Joins PATA as Corporate Member
Thailand's Second Kimpton Hotel to be Located on Koh Samui
Asia Pacific Airlines Carried Just 1.1 Million Int. Passengers in March
Korean Air Expands Baggage Notification Service to All Flights
Lufthansa Technik to Develop Cargo in the Cabin Solutions for A330s
SAS Appoints Anko van der Werff as President and CEO
Mantra Terrace Hotel Brisbane Reopens After Major Renovation
Arca Hotel in Hong Kong to Open Mid-May
Sino Jet Signs Agreement with Chengdu Shuangliu International Airport
Shangri-La Partners Samty Group for Second Hotel in Japan
Accor Expands Peppers Brand to Marysville, Australia
CWT Appoints Michelle McKinney Frymire as CEO
Langham Opens 13th Hotel in China
Cambodia Airports to Enhance Operations with Amadeus Flow
PATA Appoints Liz Ortiguera as CEO
Delivering Group Appoints Ali Powell as Director – UK & Europe
Fusion Acquires Glow Hotels & Resorts
Singapore – Hong Kong Air Travel Bubble Set for Take Off on 26 May
Marriott Signs First JW in Spain
Finnair to Expand Summer Flight Schedule
Qatar Airways to Launch Flights to Abidjan, Côte d'Ivoire
Malaysia Airlines Launches MHflypass
New Lithium Batteries Algorithm for Smiths Detection HI-SCAN 10080 EDX-2is
Fadi Samaan Joins Four Seasons Hotel Amman as Director of Sales
Finnair Pilots Sign New Collective Labour Agreement
Rosewood Partners Mitsubishi for First Hotel in Japan
Finnair to Accept First COVID19 Vaccine Dose as Alternative to Test Result
NH Hotel Group to Join Global Hotel Alliance; Merge Loyalty Programmes
Dorsett Hotels in Hong Kong to Install HEPA UV-C Air Purifiers on Guest Floors
IATA and UNWTO Launch Destination Tracker
Embraer Converts Legacy 450 into a Praetor 500 in Brazil
Delta Orders 25 More Airbus A321neo Aircraft
OAG Partners Microsoft Azure and Snowflake to Launch Metis
Bangkok Airways Delays BKK-MAQ Launch; Suspends HKT-HDY, BKK-THS/TDX
IATA Forecasts Net Airline Industry Losses of US$47.7 Billion in 2021
Chris Drewer Returns to Singapore as Airbus' SVP for South East Asia
Etihad Airways Operates First ecoFlight of 2021
Martin Clapham Joins ICC Sydney as Director of Business Services
Promoting Hua Hin Airport and Prachuap Khiri Khan to Regional Markets – Interview
NDC – Exclusive Interview with Kathy Morgan of Sabre Travel Solutions
Elephant Conservation, Jungle Bubbles and Tourism in Thailand – Interview
IATA Travel Pass – Interview with Vinoop Goel, Director Airports – APAC
How's Business in Pattaya, Thailand? Interview with MD of Tiffany's Show
Will British & Irish Lions' Tour of South Africa Go Ahead?
ASEAN Tourism Forum 2021 Postponed Until January 2022
HD Videos and Interviews
Podcasts from HD Video Interviews
RSS News Feed and Ticker
Travel Trade Shows in 2020 and 2021
High-Res Picture Galleries
Travel News Asia – Latest Travel Industry News
---
Looking for Bali, Vietnam, Cambodia tour packages, we are the best choice!!!