IATA is in the final
development phase of a digital health pass designed to support the
safe reopening of borders.
Some governments are beginning to use testing as a
means of limiting the risks of COVID19 importation without the
need for quarantine. The IATA Travel Pass will help to manage and verify the secure flow
of necessary testing or vaccine information among governments,
airlines, laboratories and travelers.
IATA is calling for systematic COVID19 testing of
all international travelers and the information flow
infrastructure needed to enable this must support:
– Governments with the means to verify the
authenticity of tests and the identity of those presenting the
test certificates;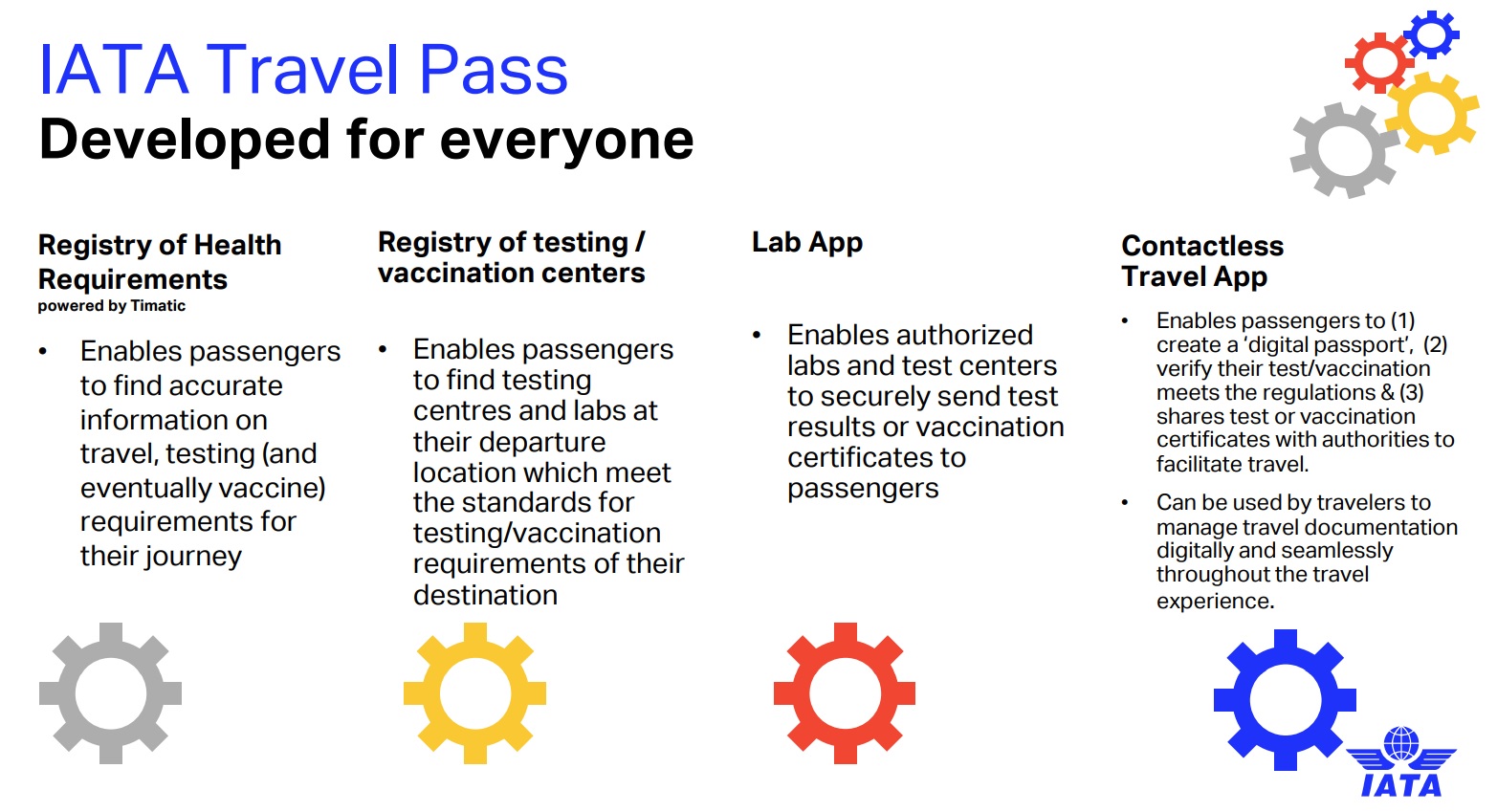 – Airlines with the ability to provide
accurate information to their passengers on test requirements and
verify that a passenger meets the requirements for travel;
– Laboratories with the means to issue digital certificates to
passengers that will be recognized by governments, and; and
–
Travelers with accurate information on test requirements, where
they can get tested or vaccinated, and the means to securely
convey test information to airlines and border authorities.
"Today borders are double locked" said Alexandre de Juniac, IATA's Director General and CEO.
"Testing is the first key to enable international travel without
quarantine measures. The second key is the global information
infrastructure needed to securely manage, share and verify test
data matched with traveler identities in compliance with border
control requirements. That's the job of IATA Travel Pass. We are
bringing this to market in the coming months to also meet the
needs of the various travel bubbles and public health corridors
that are starting operation."
The IATA
Travel Pass incorporates four open sourced and interoperable
modules which can be combined for an end-to-end solution:
Global Registry of Health
Requirements: Enables passengers to
find accurate information on travel, testing and eventually
vaccine requirements for their journey.
Global Registry
of Testing / Vaccination Centers: Enables passengers to find
testing centers and labs at their departure location which meet
the standards for testing and vaccination requirements of their
destination.
Lab App: Enables authorized labs and test
centers to securely share test and vaccination certificates with passengers.
Contactless Travel App:
Enables passengers
to (1) create a 'digital passport', (2) receive test and
vaccination certificates and verify that they are sufficient for
their itinerary, and (3) share testing or vaccination certificates
with airlines and authorities to facilitate travel. This app can
also be used by travelers to manage travel documentation digitally
and seamlessly throughout their journey, improving travel
experience.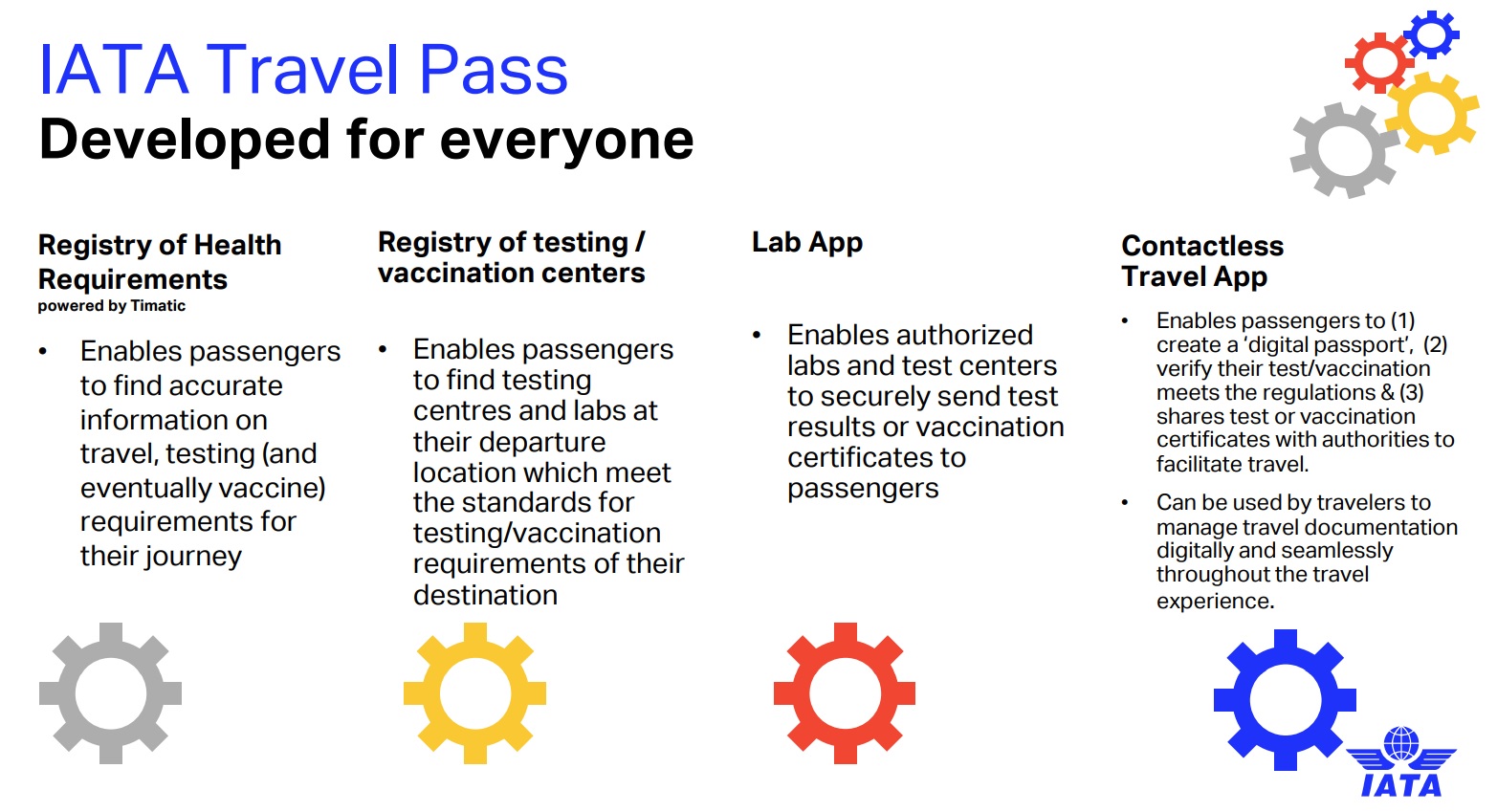 IATA and International Airlines Group
(IAG) have been working together in the development of this
solution and will undertake a trial to demonstrate that this
platform combined with COVID19 testing can reopen international
travel and replace quarantine.
IATA's Timatic
is used by most airlines to manage compliance with passport and
visa regulations and will be the base for the global registry and
verification of health requirements. IATA's One ID initiative was endorsed by a resolution at its 75th Annual General
Meeting in 2019 to securely facilitate travel processes with a
single identity token. It is the base for the IATA Contactless
Travel App for identity verification that will also manage the
test and vaccination certificates.
Nick Careen, IATA's Senior Vice President,
Airport, Passenger, Cargo and Security, said, "Our main priority
is to get people traveling again safely. In the immediate term
that means giving governments confidence that systematic COVID-19
testing can work as a replacement for quarantine requirements. And
that will eventually develop into a vaccine program. The IATA
Travel Pass is a solution for both. And we have built it using a
modular approach based on open source standards to facilitate
interoperability. It can be used in combination with other
providers or as a standalone end-to-end solution. The most
important thing is that it is responsive to industry's needs while
enabling a competitive market."
The first cross-border IATA Travel Pass pilot is scheduled for
later this year and the ISO launch slated for Q1 2021 with Android
expected to take off in Q2 2021.
The IATA .pdf about the Travel Pass is available
free of charge
here.
See latest
Travel News,
Video
Interviews,
Podcasts
and other
news regarding:
COVID19,
IATA,
Travel Pass,
Digital ID.

Headlines:

Agoda Upgrades Thailand's ASQ Booking Process
Aviation: Regulators Urged to Quickly Adopt Airport Slot Proposals
NCL Appoints Nicholas Lim as General Manager Sales Asia
Air France's Paris – Papeete Flights to Stop in Vancouver Instead of LA
Mandarin Oriental to Take Over Hotel in Riyadh, Saudi Arabia
Delta to Trial Quarantine-Free Entry into Italy
Global Tourism Plastics Initiative Welcomes 26 New Signatories
Embraer Issues HEPA Filter Service Bulletin for ERJ 145 Jets
German Bundeswehr Orders 31 NH90 NFH Sea Tiger Helicopters
Dusit Thani Wellness Resort Opens in Suzhou, China
RAF Red Arrows and Breitling Give Aerobility's Grand Auction Major Boost
AirAsia's Teleport Ready to Distribute COVID19 Vaccines
Korean Air Wins F-16 Fighter Jets Contract from U.S. Defense Department
IHG Opens 347-Room Holiday Inn and Suites Siracha Laem Chabang
Jesús Jean Arnedo Biurrarena Joins Anantara Tozeur Sahara as GM
GHM Appoints Jackson Sim as Group Director of Marketing
Melia Celebrates First Christmas and New Year on Samui with Promotion
Hyatt Regency Phnom Penh to Open 15 January
Accor to be Majority Shareholder in New Lifestyle Venture with Ennismore
Leadership Changes at IATA
ATPCO Launches New Pricing Tool
Stephan Moonen Moves to Sri Lanka as GM of Anantara Resort
GHM Appoints Ilkin Ilyaszade as VP of Operations and Pre-Opening Services
Accor Buys sbe
SAS to Resume Select Flights for Year-End Holiday Season
Boeing Forecasts Middle East to Require 2,945 New Planes Through 2039
IATA to Pilot Travel Pass by Year-End; Launch Scheduled for Q1 2021
Accor Signs First Mövenpick Hotel in Australia
Mandarin Oriental to Rebrand Historic Hotel in Zurich, Switzerland
Emanuel Grosch Appointed GM of Anantara Lawana Samui Resort
GHM Appoints Pissawan Srisakul as Director of Technical Services
Alexandre de Juniac Steps Down as DG of IATA; Willie Walsh to Take Over
Russian Helicopters Delivers First of Three Ansats to Republika Srpska
Air Astana Transforms Business Class into Premium Economy on E190-E2s
The Standard, Huruvalhi Maldives to Reopen 5 December
Accor Adds India and Turkey to Middle East & Africa Region
New Amadeus Report Looks at How Asia Pacific Travel Patterns Are Changing
ICC Sydney Approved to Host 1,500 Delegates at Events
Cebu Pacific Adds More Self-Service Features to Website
Pitak 'Chin' Norathepkitti Joins Anantara Angkor Resort as GM
ExxonMobil Orders Two Airbus H145 Helicopters for PNG LNG Project
Pools Confirmed for Women's Rugby World Cup 2021
Hong Kong – Singapore Air Travel Bubble Suspended at Last Minute
Capella to Open 47-Room Hotel in Hanoi, Vietnam
Sarah Moya Moves to Vietnam as GM of Two Hotels in Quy Nhon
Qatar Airways to Launch Thrice Weekly Flights to Abuja, Nigeria
Air Astana to Launch Flights to Maldives in December
Delta to Block Middle Seats Until 30 March 2021
Hosts in Thailand Commit to Airbnb's COVID19 Safety Practices
Qatar Airways Celebrates Countdown to FIFA World Cup with Special Livery
France Orders 7 Albatros Maritime Surveillance and Intervention Aircraft
New World Signs Third Hotel in Vietnam
Accor Opens 284-Room ibis Styles Hotel in Nagoya, Japan
Name Change for Conventions and Incentives New Zealand (CINZ)
TAT Donates Over 637,000 Baht to Elephant and Forest Conservation
ACI Re-Elects Jost Lammers as President
Accor Expands Partnership with Qantas FFP
HIA Upgrades Travel Experience with Latest CT Screening Technology
Airbus and Germany Submit Eurofighter Offer to Switzerland
New COVID19 Insurance for Inbound Travellers to Singapore
GHM Signs Stunning Chedi Resort on Koh Chang, Thailand
Wyndham Signs First Two Tryp Hotels in New Zealand
Emirates SkyCargo Adds Airbus A380 to Fleet
American Airlines and British Airways Trial Multi-COVID19 Testing
Alex Porteous Joins Four Seasons Hotel Kuala Lumpur as GM
Qatar Airways Signs Codeshare Agreement with Air Canada
Hungary Orders Two Embraer KC-390 Aircraft
Lufthansa and SWISS First to Use Star Alliance's Biometrics Platform
Qatar Airways Launches Student Club
IATA Publishes Guidance for Vaccine Logistics and Distribution
Far East to Open New Properties in Australia, Japan and Singapore
All Passengers on UA14 from Newark to Heathrow Tested for COVID19
Hahn Air Expands NDC Platform; Starts Accepting BSP Cash
Marcel Thoma Joins Mandarin Oriental, Marrakech as GM
20th WTTC Global Hybrid Summit to Take Place in Cancun 23-25 March
Association of Asia Pacific Airlines (AAPA) – State of the Industry with Subhas Menon
Korean Air to Buy Asiana Airlines
IHG Signs First Hotel Indigo in Kuala Lumpur, Malaysia
Anthony Tyler Returns to Mandarin Oriental Bangkok as GM
Aviation Leaders Debate Solutions to Rebuild Passenger Confidence
Mandarin Oriental Making Good Progress in Eliminating Single-Use Plastic
Etihad Airways to Launch Daily Scheduled Flights to Tel Aviv, Israel
Asia Pacific Airlines Strive for Greater Collaboration with Governments
Singapore Airlines Raises S$850 Million Through Convertible Bond Issue
Hong Kong Int. Airport Handled Just 79,000 Passengers in October
Richard Thomson to Join Air New Zealand as Chief Financial Officer
Subash Basrur Joins Courtyard by Marriott Penang as GM
Cathay Pacific and Cathay Dragon Carried Just 38,541 Pax in October
Vietjet and UPS Expand Partnership
American Airlines Trials App Designed to Make International Travel Easier
Delta, LAX Accelerate Terminal Transformation by 18 Months
Smiths Detection Expands IONSCAN 600 Capabilities to Detect Spice
Qatar Airways to Resume Flights to Phuket, Thailand
Boeing Forecasts China to Acquire 8,600 New Planes by 2040
Richard Bias Joins Hyatt Regency Phnom Penh as Executive Chef
Boeing to Help Turkey Establish Thermoplastic Manufacturing Facility
oneworld, SkyTeam and Star Alliance Support ICAO's Updated Plan
Hong Kong's Airport Authority Opens 2-Day Virtual Job Fair
Marriott Opens First Moxy Hotel in Taiwan
Airbus Signs Deal to Deliver 38 New Eurofighter Aircraft to German Air Force
Hong Kong – Singapore Air Travel Bubble to Take Off on 22 November
Thai Airways Confirms Flight Schedule from 1 January to 27 March 2021
Formula 1 Publishes Provisional Calendar for 2021
Qantas to Operate Thousands of Flights to Melbourne and Regional Victoria
Atomize Appoints Philip Niemann as CCO
China Airlines' Calendar for 2021 Celebrates Natural Beauty of Taiwan
IATA and ITF Call on Governments to Prevent 'Employment Catastrophe'
Air Canada's Transformed Aeroplan FFP Now Live
sbe and Accor Sign First Mondrian Hotel in Australia
93% of Airline Pax in APAC Say Travel Routines Have Changed Forever
Ashley Lai Returns to Thailand as GM of Sheraton Samui Resort
Charles H. in Seoul Ranked as One of the Best Bars in the World
Qatar Airways Launches New Fare Families
Mandarin Oriental Taipei to Reopen 1 December
Construction of First Atwell Suites Hotel Begins in Miami, USA
Accor Signs Three Hotels in Djibouti, East Africa
Four Seasons Pulls Out of Sao Paulo, Brazil
Etihad Makes Major Changes to Executive Leadership Team
Airbnb Survey Reveals 90% of Thais Find 'Work-Cations' Appealing
Martin Cramer Joins Mandarin Oriental Pudong, Shanghai as GM
Air Astana Reduces Flights to Istanbul, Turkey
Airbus Delivered 72 Aircraft in October
The Anam Resort in Vietnam Appoints Ye Chang Sheng as EAM
Boeing Appoints Jinnah Hosein as VP of Software Engineering
Russian Helicopters Delivers Two Mi-8AMT Kits to Kazakhstan
Thailand, COVID19 and Shorter Quarantines – WHO Press Conference
Asia-Pacific Airlines' September Traffic Down 95.8%
Thai Vietjet Launches Bangkok – Surat Thani; Will Launch CNX – NST on 30 Nov
Bastien Giannetti Joins Courtyard by Marriott Siem Reap as GM
Michael Moriarty to Return to Hong Kong Disneyland as MD
Embraer Partners Porsche for 10 Phenom 300E and 911 Turbo S Pairings
Global Air Cargo Recovery Continues in September
FlyArystan Records 91% Domestic On-Time Performance in October
Hyatt Takes Over Hotel in Hanoi, Vietnam
Singapore Airlines Receives Envirotainer QEP Accreditation
Finnair Includes Complimentary COVID19 Insurance on Tickets ex-Finland
Thai AirAsia Launches Domestic Tourism Promotion
Six Senses Launches Promotion for Private Island Resort in Cambodia
Travelport Signs Three Travel Agencies in Asia Pacific
Singapore Airlines Establishes Training Academy
Castle of Magical Dreams at Hong Kong Disneyland to Reopen 21 November
Luxury Yachts and Sailing in Thailand – Interview with Simpson Marine
IHG to Take Over Hotel in Johor Bahru, Malaysia
Marriott Opens 4th Four Points by Sheraton Hotel in South Korea
Qatar Airways' Passengers Can Now Offset Their Carbon Emissions
Shangri-La Opens Office Building in Wuhan, China
Marriott Opens Second Luxury Collection Hotel in Kyoto, Japan
Air Canada Rouge Resumes Flights
Cebu Pacific Extends Flexible Booking Options
Marriott Appoints Satya Anand as President EMEA
Dusit Signs First Hotel in Japan
Oakwood Opens 12th Property in Japan
Thai Vietjet Launches Hat Yai – Chiang Rai Flights
Air New Zealand Publishes Sustainability Report
Qantas to Operate Series of Scenic Getaway Flights
Christian R. Baudat Moves Back to Japan; Takes on New Role with Oakwood
Aloft Bangkok – Sukhumvit 11 Joins Thailand's ASQ Programme
Qantas Enables Routehappy Rich Content Through Sabre Red 360
Boeing on Contract for Two More Japan KC-46 Tankers
Marriott Signs Four Hotels in Thailand
IHG Signs Two Hotels Near Kata Beach in Phuket, Thailand
Kuwait Airways Takes Delivery of Airbus' First A330-800
Hilton Expands Partnership with Amadeus
Executive Appointments at Skye Suites
Marriott Opens Second Renaissance Hotel in Shenzhen, China
BA to Operate Flights to 52 Long-Haul Destinations in November
New Figures from WTTC Reveal 174 Million People Could Lose Jobs
Bangkok Airways to Resume Krabi Flights
Langham Signs First Hotel in Italy
Sabre to Drive BIDTravel's Digital Transformation
Plaza Premium Expands Meet and Assist Services with YQ Now Partnership
Companies Using Hotels to Create Bubbles
United Airlines Makes App Easier for People with Visual Disabilities
Airbus Reports 9M 2020 Results
Russian Helicopters Launches Mi-8 Test Program in Indonesia
Accor Signs First MGallery Hotel in Singapore
Asia Pacific Airlines Struggling to Survive; AAPA Reports September Traffic
IATA Revises 2021 Airline Industry Revenue Forecasts Downwards
Canterbury Unveils Latest British & Irish Lions Pro Jersey
Bombardier to Open Service Centre in Melbourne; Corey Trudgen Appointed GM
Rosewood Signs Hotel in Amsterdam
Bangkok Airways Partners Trip.com
Ecuadorian Air Force Takes Delivery of Two Airbus H145s
Onyx Signs World's First YOO Beach Club and APAC's First Yoo2 Hotel
Qantas to Launch Flights Between Sydney and Launceston
Finnair Signs Ground Handling Agreement with Airpro and Aviator Finland
Accor Signs Three Sebel Hotels in Australia and New Zealand
Singapore's Mid-Market Hotels Poised to Lead Recovery
IHG Opens Indigo Hotel in Dubai
Carlton Hotel Bangkok Sukhumvit Opens Cooling Tower Rooftop Bar
Collins Aerospace Signs MRO Agreement with GKN Fokker Services
Banyan Tree Opens Fourth Hotel in Thailand
Oakwood Offers London Taxi Service to Guests in Bangkok
Thai Airways Launches Weekly Flights Between London and Bangkok
Emerging Travel Trends in Asia Pacific – Interview with Sabre
WHO Stresses Importance of Contact Tracing in Fight Against COVID19
Airports, Air Travel and COVID19 – Interview with SITA's President Asia Pacific
Grand Richmond Hotel in Nonthaburi Launches Quarantine Package
HD Videos and Interviews
Podcasts from HD Video Interviews
Travel Trade Shows in 2020 and 2021
High-Res Picture Galleries
Travel News Asia – Latest Travel Industry News
---
Looking for Bali, Vietnam, Cambodia tour packages, we are the best choice!!!