(09 Apr 2021)
Phoenix Aviation, a Hong Kong-based aviation advisory
company, has unveiled a plan to market Hua Hin International
Airport (HHQ), Hua Hin (หัวหิน),
Prachuap Khiri Khan (ประจวบคีรีขันธ์), Cha-Am (ชะอำ) and Petchaburi
(เพชรบุรี), to regional travellers and
businesses.
The airport, located around two hours from
Suvarnabhumi Int. Airport (BKK) near Bangkok, is currently
undergoing a major renovation and expansion project that began in
2020.
The runway, taxiway, security, passenger terminal and
services are all being upgraded so that it can handle more
passengers and flights.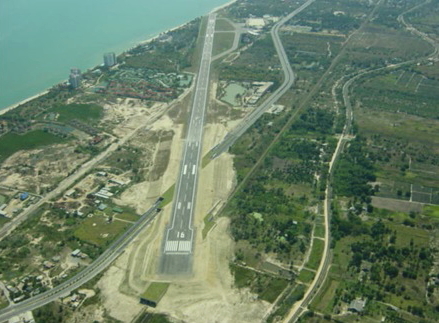 Thai AirAsia launched Chiang Mai (CNX) – Hua Hin and Udon Thani
(UTH) – Hua Hin
flights in August of last year, the airline's very first
flights to Hua Hin. Santisuk Klongchaiya, the airline's CEO, said
at the time, "AirAsia is very pleased to be able to play an active
part in reviving domestic tourism and travel industry in the
country … This is the very first time AirAsia Thailand is flying
to Hua Hin and we are very pleased with the early demand for these
new services with both routes registering a staggering 85 percent
load factor on average.
"Hua Hin is one of the top destinations amongst
Thai travellers and we are confident that both of these direct
regional services will continue to be popular among visitors
looking for a quick weekend getaway.
Chiang Mai and Udon Thani are also popular destinations in the
north and northeast, and we believe the introduction of these
routes is not only great for consumers, but also for tourism and
for stimulating local economies."
Prior to 2018, the airport only handled private
jets, helicopters and charter flights.
AirAsia Berhad was the
first international airline to operate scheduled flights to Hua
Hin, connecting the town with Malaysia's capital city, Kuala Lumpur.
So how will Phoenix Aviation develop business at
the airport?
During a press conference in Hua Hin on Wednesday, John Laroche, CEO of Phoenix Group, said, "Our interest and
expertise is targeted at small and regional airports, a sector of
the airport industry that has been widely overlooked, when it
comes to realizing privatization benefits. There are many good
examples of successful privatization of large airports, for
instance Sydney and Copenhagen, but, it's the emergence of a
Japanese small and regional model which has shown recent success
that provides a foundation base for learning."
Phoenix has set a target of 2 flights per day and
100,000 passengers in 2022, with markets within 6-7 hours being
the priority. Their aim is to grow this to 5 flights per day and
1,000,000 passengers by 2025.
The critical issue to overcome, according to Khun Udorn Olsson, Chairman of Phoenix Aviation Thailand, is "the
need to create critical mass, prior to introducing a host of new
routes, services and associated investment … The link between
airport and town is the breakthrough concept that the Phoenix-Plan
delivers. A partnership between airport and town will allow for
new passenger services, unique sponsorship partnering
opportunities, introduction of special tourist services, in town,
as well as at the airport, while achieving acceptable returns on
investment for everyone in the airport-town ecosystem."
The Phoenix-Plan covers airside, landside and town
services, including a new Airport-Hua Hin membership program,
media, duty free, welcome and departure VIP services and in-town
events, created and delivered by the Phoenix Group.
The plan consists of 'Live-Learn-Work-Play' – the
B2B program, and 'Open to the World' – the B2V (business to
visitor) program.
With Live-Learn-Work-Play, the goal is to work
with the business sector and create customized programs and
solutions. For example, Phoenix will offer special programs to a
hotel's proprietary global network, will assist real estate
developers by chartering flights for clients to visit Hua Hin,
will work with tour operators and package a suite of
hotels-transportation-attractions, will help academic institutions
give comfort to arriving students with special services, will
focus on VIP services at the airport, through meeting facilities,
executive lounges, airplane pick up and more.
Open to the World is an overarching program that
is visitor and customer facing. The airport will work with hotels,
attractions, restaurants, bars, health & wellness centers and
retail, to promote those parties under a common theme and on a
common platform, with program that reinforces each other's
products and services.
"Unlike traditional airport operators, we
are first marketers. Our experience reaches further than operating
airports, bringing a wealth of our previous success from shopping
malls, consumer products, events management and loyalty programs.
Our focused experience will be realized through our B2B and B2V
programs. We believe our customers will see a difference from the
moment they consider Hua Hin as a destination, before they even
arrive," added John.
Editor's note:
We will have much more on this story in next week's travel news,
so please do check back.
See latest
Travel Industry News,
Video
Interviews,
Podcasts
and other
news regarding:
COVID19,
Hua Hin,
Roi-Et,
Khon Kaen,
Sisaket,
Ubon Ratchathani.
---
Looking for Bali, Vietnam, Cambodia tour packages, we are the best choice!!!