(05 Feb 2021)
Singapore Airlines has reported a Q3 nett loss of
S$142 million (approximately US$106.3 million).
International air travel demand remained severely
constrained in the quarter, as border controls and travel
restrictions continued to be in place in many countries amid new
waves of the COVID19 infection. As a result, the SIA Group's
passenger carriage shrank 97.6% year-on-year. However, when
compared to the previous quarter, passenger carriage grew 44.8% on
the back of a 90.8% increase in capacity for the third quarter.
Group revenue fell $3,404 million (-76.1%)
year-on-year to $1,067 million during the third quarter, as all
three passenger airlines within the Group recorded a sharp drop in
passenger flown revenue due to low traffic. This was partially
offset by improvements in cargo flown revenue, as the global
airfreight capacity crunch continued to provide strong support for
both load factors and yields. In response to the continued strong
demand for pharmaceutical and e-commerce shipments, and an uptick
in general cargo demand, SIA added capacity by stepping up the
frequency of passenger aircraft operating cargo-only flights and
through the resumption of more passenger services. The utilisation
of the freighter fleet was also maximised to deliver more cargo
capacity.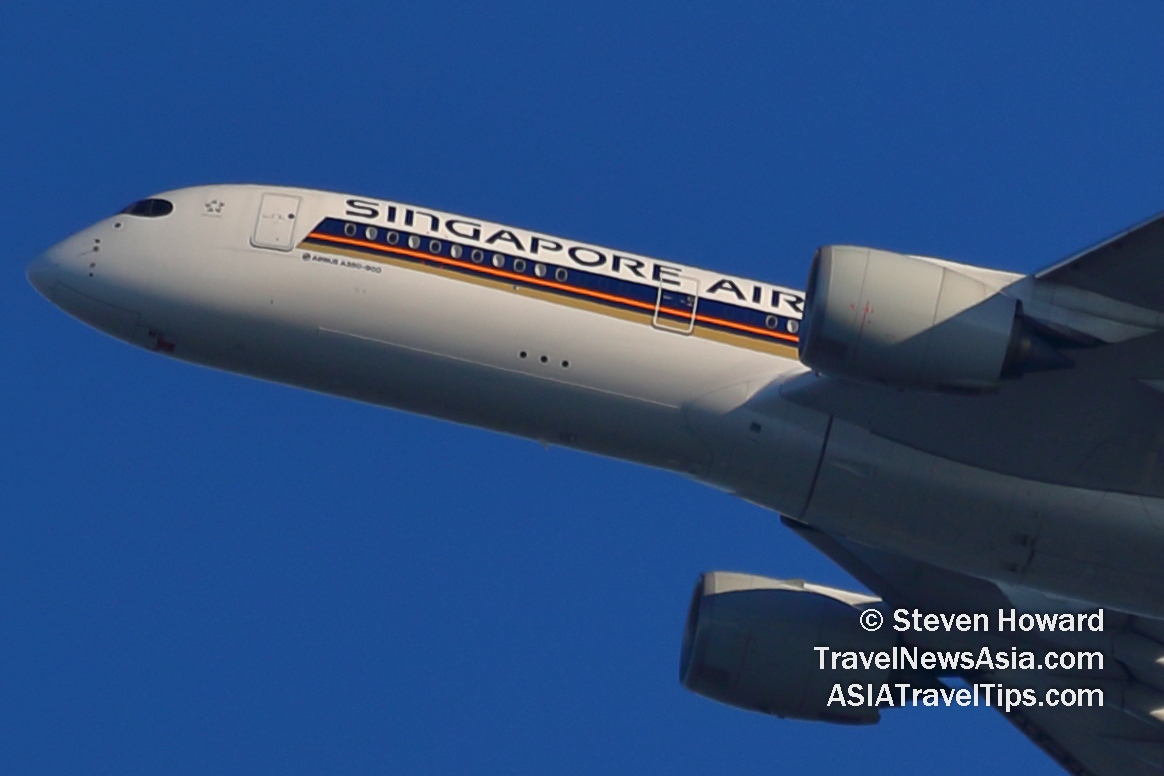 Group expenditure was down $2,624 million (-65.2%)
from last year to $1,398 million. Non-fuel expenditure fell
significantly year-on-year, by $1,540 million (-54.7%), on the
back of cost-saving initiatives such as capacity cuts and
staff-related measures, as well as government support schemes. Net
fuel cost declined $933 million (-77.3%) to $274 million as
capacity cuts and lower fuel prices reduced fuel cost before
hedging. A net gain of $63 million was recorded for the quarter in
relation to fuel hedging and fuel derivatives, comprising fuel
hedging losses of $88 million, a fuel hedging ineffectiveness loss
of $36 million (arising from a further downward revision to the
recovery trajectory) and fair value gains of $187 million on fuel
derivatives that had earlier been deemed to be ineffective hedges.
As a result, the group registered an operating loss of $331
million for the quarter, a $780 million reversal from an operating
profit of $449 million last year.
For the quarter ended 31 December 2020, the group
reported a net loss of $142 million, a deterioration of $457
million against last year. This was primarily driven by the weaker
operating performance, partially offset by a swing from tax
expense to tax credit.
April to December 2020 – Profit and Loss
Group operating loss for the nine months to
December 2020 was $2,194 million, a reversal of $3,056 million
from the profit of $862 million for the same period last year, as
travel demand deteriorated sharply since the start of the
financial year.
Revenue plunged $10,094 million (-78.9%) due to
weaker passenger flown revenue arising from a 98.5% drop in
traffic. This was partially offset by higher cargo revenue as
movements of general cargo and pharmaceuticals, as well as strong
e-commerce demand, kept yields high throughout the nine months.
Expenditure fell $7,038 million (-59.0%). Net fuel
cost fell $2,906 million (-81.7%) as the reduction in volume
uplifted lowered fuel cost before hedging to $405 million, a
decline of $3,219 million (-88.8%) from last year.
This was partially offset by fuel hedging losses
of $245 million, a swing from fuel hedging gain of $68 million
last year. Due to downward revisions in the recovery trajectory,
expected fuel consumption was reduced, resulting in the
recognition of a $497 million loss in ineffective fuel hedges.
Partially offset by fair value gains of $85
million, mark-to-market losses for the nine months stood at $412
million. Similarly, non-fuel expenditure was down $4,544 million
(-54.2%) to $3,833 million, attributable to various cost-saving
initiatives and government support schemes.
In addition to the weaker operating performance,
there were also other non-cash items recorded during the first
nine months, including an impairment charge of $1,333 million on
the carrying value of older generation aircraft, a $127 million
charge from the liquidation of NokScoot, and a $170 million
write-down of goodwill recorded when SIA first gained control of
Tiger Airways in October 2014. As a result, the group swung into a
$3,609 million net loss position for the nine months ended 31
December 2020 compared to the $520 million net profit a year ago.
Q3 2020/21 – Balance Sheet
As at 31 December 2020, the group's shareholders'
equity was $15.7 billion, an increase of $6.3 billion as compared
to 31 March 2020. Cash and bank balances saw an increase of $4.4
billion, rising to $7.1 billion, while total debt balances
increased by $0.4 billion to $12.2 billion due to the drawdown of
new debt facilities.
Consequently, the group's debt-equity ratio fell
from 1.27 times to 0.78 times. In the first nine months of the
financial year, SIA increased its liquidity by approximately $12.7
billion. In December 2020, SIA closed a five-year convertible bond
issuance for $850 million and a private placement of 10-year Notes
that raised $500 million.
Singapore Airlines' Fleet and
Network
The group's fleet currently consists of 185
passenger and cargo aircraft. The passenger network is currently
supported by about 64 aircraft and all seven freighters are fully utilised,
whilst around 24 passenger aircraft are deployed on
cargo-only services. The group has parked 123 aircraft, including the 33
surplus aircraft that were impaired in the first half. More
aircraft will be re-introduced into the group's operating fleet as the
network gradually expands to match opportunities for re-opening.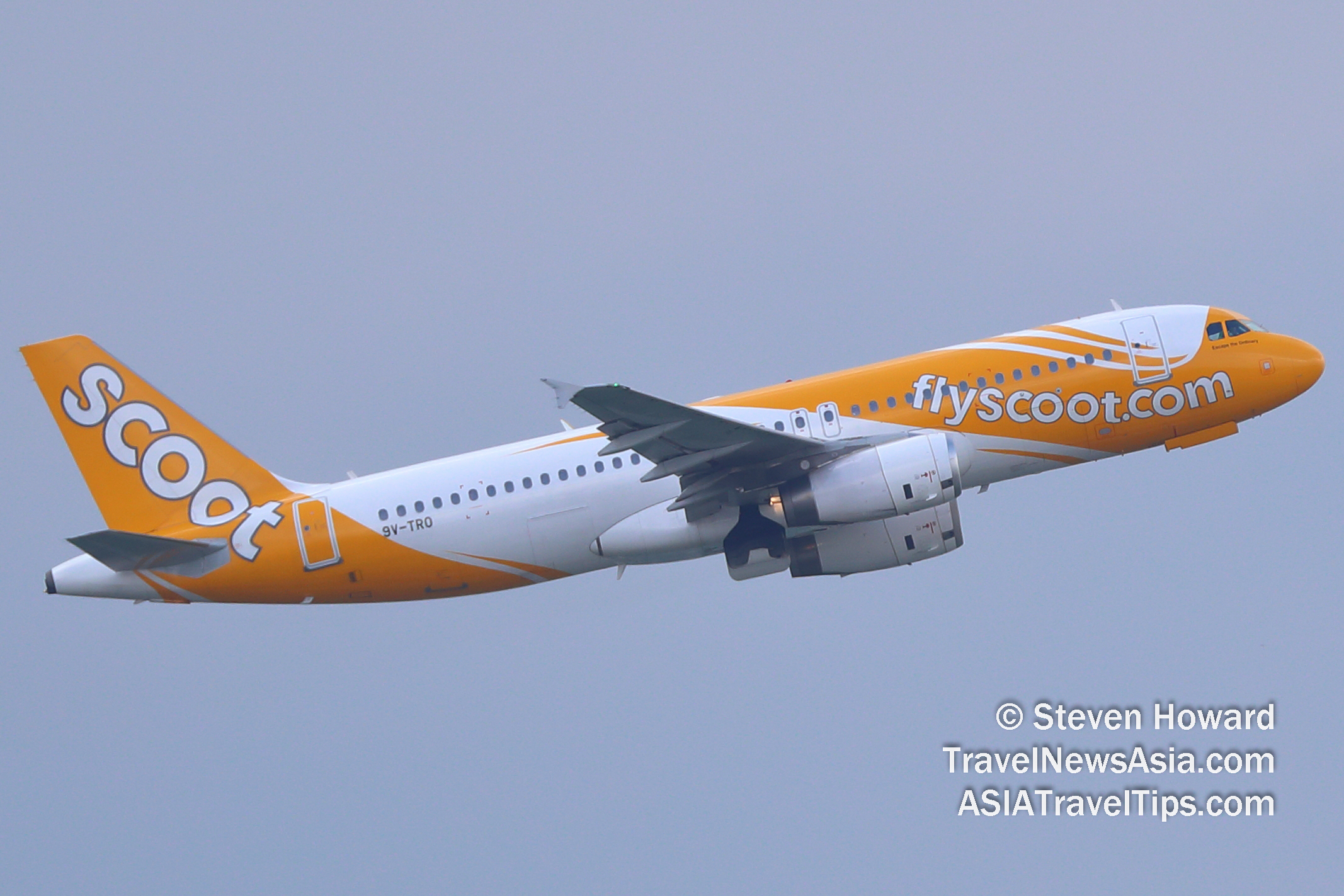 During the quarter, the group gradually expanded
its operations by reinstating services to key cities as well as
mounting additional frequencies to existing destinations. At the
end of December 2020, SIA served 38 destinations including
Singapore, up from 31 at the end of September 2020. SilkAir
increased the destinations served to eight, up from six, while
Scoot's network remained unchanged with 17 destinations. By the
end of December, the group's passenger network covered 54
destinations including Singapore, compared to 43 three months ago.
The group's cargo network comprises 66 destinations (including
Singapore) as at 31 December 2020, up from 62 as at 30 September
2020.
From January 2021, SIA has reinstated services to
Dubai, Moscow and Munich, while Phuket will be reinstated as a
SilkAir destination in February 2021. From
4 March 2021, Phuket
will be transferred from SilkAir to SIA. Based on current
schedules, as of end-April 2021, the group's total passenger
capacity is expected to be at around 25% of pre-COVID19 levels, and
we expect to serve around 45% of the points that we flew to before
the crisis.
SilkAir, Fund-Raising and
Sale-Leaseback
The integration of SilkAir's narrowbody operations
with Singapore Airlines will begin on 4 March 2021, when the first
SIA 737-800 NG aircraft operates on the service to Phuket.
Further to the fund-raising efforts in the first
nine months of the year, SIA also issued its first USD-denominated
bond in January 2021 raising US$500 million (or S$666 million
equivalent). To-date, SIA has successfully raised approximately
$13.3 billion in additional liquidity since the beginning of the
financial year.
Discussions on sale-and-leaseback transactions are
at an advanced stage. SIA continues to have access to more than
$2.1 billion in committed credit lines, along with the option to
raise up to $6.2 billion in additional mandatory convertible bonds
before the Annual General Meeting in July 2021.
Outlook
The resurgence of COVID19 infections as well as
the spread of more transmissible variants of the virus continue to
weigh on international air travel, as border controls and travel
restrictions tighten in many countries. Nonetheless, in line with
Singapore's progressive re-opening, the group expects to see a
measured expansion of the passenger network over the coming
months.
Airfreight capacity remains constrained due to the
steep reduction in passenger flights, and this has affected the
bellyhold cargo capacity worldwide. While cargo demand has tapered
off after the traditional year-end peak period, strong
fundamentals and healthy Purchasing Managers' Index readings
across many key export economies will continue to support cargo
demand in the coming months. Furthermore, as the production of
COVID19 vaccine ramps up, SIA Cargo is looking to capture its
share of the traffic to Asia and the Southwest Pacific region.
See latest
Travel Industry News,
Video
Interviews,
Podcasts
and other
news regarding:
COVID19,
Singapore Airlines,
Changi,
Singapore.

Headlines:

Busy Year Ahead for Banyan Tree as Group Prepares to Open 8 Hotels
SIA, Scoot and SilkAir Operate First Flights with Vaccinated Pilots and Cabin Crew
Ascott Opens Citadines Serviced Residence in Canggu, Bali
Markus Krebs Returns to Hawaii as GM of Outrigger Reef Waikiki Beach Resort
Clinique La Prairie Aesthetics & Medical Spa in Bangkok Appoints Director
AeroLogic Implements SITA eWAS Pilot Weather Monitoring Solution
IDeaS Expands Partnership with RateGain for AI-Driven Real-Time Intelligence
SIA Revises Aircraft Delivery Agreements; Defers Over $4b in Capital Expenditure
Marriott Signs Deal to Significantly Expand All-Inclusive Portfolio
Dusit Signs First Hotel in Kuwait
Hong Kong Int. Airport Handled Just 71,000 Passengers in January
Japan's First Boeing KC-46 Completes Maiden Flight
Etihad Airways World's First Airline to Vaccinate 100% of Cabin Crew and Pilots
Bombardier Partners StandardAero to Expand Maintenance Capabilities in Europe
Turkish Competition Authority Approves Korean Air's Acquisition of Asiana
Bahrain Int. Airport's New Terminal Makes the Most of SITA Technology
UK to Charge Arrivals £1,750 for 10-Day Hotel Quarantine
Vietjet Takes Delivery of Two More Airbus A321neo ACF Aircraft
New Indian Airline Takes Off with Laminaar Aviation's ARMS Software
Aviation: Inconsistent Border Restrictions Serious Impediment to Recovery
AirAsia Indonesia, Malaysia, Philippines and Thailand Carried 23m Pax in 2020
Emirates Installs Touchless Self Check-In and Bag Drop Kiosks at DXB
British Airways to Invest in Sustainable Aviation Fuel Company LanzaJet
Qantas Upgrades Inflight F&B Options
SAS to Increase Flights in Spring and Summer Schedules
Etihad Airways to Use 360 Foam Wash on GE90 and GEnx-1B Engines
Air New Zealand Reopens Regional Lounge at Wellington Airport
Qantas Starts Offering Unlimited Flight Date Changes
Simpson Marine Sells Sanlorenzo SL78 and SL118 to Customers in Indonesia
KrasAvia Adds Two ATR 72-500 Aircraft to Fleet
Philippine Airlines Reducing Workforce by 30%
ATR Americas Appoints Tiziana Masullo as MD and President
CAE to Produce Pyure Air Sanitizers
Hyatt Regency Opens in Ningbo, China
Singapore Airlines Reports Q3 Net Loss of S$142 Million
Whitbread's Third Premier Inn Hotel on Isle of Wight to Open 26 February
Honda Extends Commitment to MotoGP
airBaltic Training Launches Recruitment Drive
Scandinavian Airlines Flew 280,000 Passengers in January
Myanmar Tourism Marketing Calls on Partners to Continue Support
Bombardier Appoints Stuart Bailey as GM of Berlin Service Centre
Qantas Signs Deal to Use Alliance Airlines' Embraer E190s
Int. Passenger Demand Down 75.6% in 2020; Forward Bookings Falling Sharply
Melbourne Home to Marriott's Second W Hotel in Australia
Strong Cargo, Reduced Costs Result in Operating Profit for Korean Air
SITA Launches Health Protect
Arne Sorenson to Reduce Work Schedule for Cancer Treatment
Accor Rebrands Mercure Hotel as Mantra Gladstone
Strong Variations in Regional Air Cargo Performance in 2020
Duxton Becomes Marriott's First Autograph Hotel in Singapore
Hyatt Takes Over Hotel in Brisbane, Australia
Marriott Opens 50th Hotel in Shanghai, China
Simpson Marine Sells Sanlorenzo SX112 to Customer in Hong Kong
Whitbread Set to Open Four More Premier Inn Hotels in Scotland
Diego Angarita Returns to Four Seasons Resort Anguilla as GM
GKN Aerospace Takes Leading Role in UK's Future Flight Challenge
New Boeing F-15EX Fighter Jet Takes First Flight
Rex Airlines Expands PSS Agreement with Sabre
Compulsory COVID19 Testing for Staff at Hong Kong Airport
American Airlines Makes Important Changes to Face Mask Policy
Process to Choose Hosts of Rugby World Cup 2025, 2027, 2029 and 2031 Begins
British Airways to Commence VeriFly Trial on 4 February
Rosaviatsiya Approves Mku30 Communications System for Ansat Helicopters
SATENA Signs GMA with ATR
Bombardier Completes Sale of Transportation Business to Alstom
From Mekong Startups to Mekong Innovations in Sustainable Tourism
China Airlines Launches Ultra-Low Temperature Cargo Service
Air Canada Suspends Flights to 15 Destinations in Mexico and Caribbean
Etihad Airways Continues to Operate Flights from London and Manchester
Vietjet Reports VND274 Billion Profit in Q4 2020
Cebu Pacific Introduces New Baggage Policy
Air Astana to Launch Frankfurt – Atyrau Flights
FINN Partners Establishes Advisory Board
Asia Pacific Airlines Carried 69 Million Passengers in 2020
Singapore Airlines to Operate Boeing 737-800 NG on Phuket Flights
Bombardier Expands Smart Link Plus Connected Aircraft Program
Vibe Hotel Melbourne Appoints Sai Amani as GM and Vanesa Kaya as EAM
Emirates Skywards Extends Tier Status, Miles
Malaysian Customs Approves Teleport as Forwarding Agent
Austrian Airlines Requires Passengers to Wear FFP2 Masks Without Valves
IATA DG: We Can See Light at the End of the Tunnel
How's Business in Pattaya, Thailand? Interview with MD of Tiffany's Show
UNWTO's Panel of Experts Have Mixed Outlook for 2021
EASA Gives Green Light to B737 MAX; Boeing Agrees to Make More Changes
Qatar Airways Privilege Club Extends Tier Status of Members
Thomas Bouledin Joins Four Seasons Bali at Jimbaran Bay as Pastry Chef
SAS and Apollo Extend Partnership for Three More Years
Qantas Partners BP to Advance Shared Net Zero Ambitions
Army in Asia Pacific Signs US$172 Million Contract for Light Tanks
Laguna Golf Lang Co in Vietnam Joins Asian Tour Destinations
Four Seasons Tokyo at Marunouchi Appoints Charles Fisher as GM
Air New Zealand Requires All Customers to Wear Face Masks
Whitbread Signs Deal with ENGIE for 600 Rapid Charging Points in UK
Air France Expands Partnership with Michelin
Hyatt Hotels in Latin America Offer Free COVID19 Tests to Guests
United Airlines Expands COVID19 Testing and Pre-Clearance Program to Hawaii
DEFIANT X – The Fastest and Most Maneuverable Assault Helicopter in History
Bangkok Airways to Resume BKK – Sukhothai, Trat Flights on 1 February
WTTC Says UK Hotel Quarantines Would Cause Irreparable Damage to Industry
Airbus Delivered 300 Helicopters in 2020; Logged 289 Orders
Swansea University Expands Partnership with Faradair Aerospace
Qatar Airways Increases Flights to Africa
United Airlines Launches Travel-Ready Center
Embraer Completes First ANPI Transaction
Korean Air Expands Baggage Notification / Tracking Service
Cathay Pacific Carried Just 39,989 Passengers in December
Finnair Demands Negative COVID19 Test Results; Resumes UK Flights
Thai AirAsia X Offers Unlimited Changes or Credit to Japan, Korea Ticket Holders
Etihad Airways to Resume Flights to Doha, Qatar
airBaltic Establishes Maintenance Training Organization
Boeing Sets 2030 as Sustainable Fuels Target for Commercial Airplanes
Airbus Flightlab Testing Tomorrow's Aviation Technologies
Marriott Signs First Ritz-Carlton Ski Resort in Europe
BBAM Orders 6 Boeing 737-800 Converted Freighters
UK Court Gives Malaysia Airlines Green Light for Creditors Meeting
Airbus Revises Aircraft Production Rates
IHG Signs First Kimpton Hotel in France
Iberia and Qatar Airways Expand Codeshare Agreement
Turkmenistan Airlines Orders Two Airbus A330-200P2F
Convert Nectar Points into Avios and Vice Versa
Westin Grand Hotel Rebrands as the Hilton Vancouver Downtown
Minor Hotels Partners Funyard for China Expansion
Singapore Airlines Resumes Thrice Weekly Flights to Munich
Qatar Airways to Resume Atlanta Flights; Increase Frequencies to USA
Accor Opens First Movenpick Hotel in Australia
FlyArystan to Launch Five New Routes
Avani Opens Third Hotel in Dubai
50-Room Mantra Hotel Opens in Traralgon, Australia
UK Orders Future Target Acquisition Solution from Elbit Systems
ATPCO Buys SITA's Fare Management System, Airfare Insight
SIA Launches One-Stop Online Solution for COVID19 Pre-Departure Testing
Ultra-Trail World Tour Launches 2021 Season with New Race Format
Volkert Geertsen Appointed GM of sala Bang Pa-in, Thailand
United Airlines Appoints Doreen Burse as SVP – Worldwide Sales
Emirates Starts Vaccinating Staff; Priority Given to Cabin Crew, Pilots etc.
Ovolo Southside in HK Upgrades Food and WiFi for Quarantine Guests
WTTC Looking Forward to a Strong Summer of Travel
Banyan Tree Krabi Opens Spa with Hydrotherapy Facility
Marriott to Open 100 Hotels in Asia Pacific in 2021
Emirates Expected to Implement IATA Travel Pass Phase 1 in April
Air Canada to Resume Boeing 737 MAX Flights on 1 February
Air New Zealand Extends International Schedule to End-June
Etihad Airways to Trial IATA Travel Pass in Q1
Four Seasons Beirut Appoints Georges Ojeil as GM
IATA Supports EU COVID19 Vaccination Certificate Proposal
Negative COVID19 Test Required for Travel to UK
Air New Zealand to Study Effectiveness of Saliva Testing in Detecting COVID19
Executive Appointments at Wyndham Hotels & Resorts in Asia Pacific
Four Seasons Toronto Appoints Mary Ann Gamboa as Director of Marketing
First Grand Hyatt Hotel in Saudi Arabia Soft Opens
Lynne Doughtie Joins Boeing's Board of Directors
Hong Kong Rugby Union to Transition Elite Programme in June
Qatar Airways Receives 5-Star COVID19 Airline Safety Rating
Hong Kong Int. Airport Handled Just 8.8 Million Passengers in 2020
Rosewood Signs Very Special Property in Rome, Italy
Cathay Pacific Develops Solution for Vaccine Distribution
Fiji Link Launches Mobile Boarding Passes at Nadi, Suva and Labasa
Latitude 33 Takes Delivery of New Challenger 350 Business Jet
Mesa Opens New Maintenance Hangar at Beja Airport in Portugal
Will British & Irish Lions' Tour of South Africa Go Ahead?
Four Seasons Returns to Bangkok with Brand New Hotel on the River
ASEAN Tourism Forum 2021 Postponed Until January 2022
HD Videos and Interviews
Podcasts from HD Video Interviews
RSS News Feed and Ticker
Travel Trade Shows in 2020 and 2021
High-Res Picture Galleries
Travel News Asia – Latest Travel Industry News
---
Looking for Bali, Vietnam, Cambodia tour packages, we are the best choice!!!